EpiCenter for Emerging Infectious Disease Intelligence
The EpiCenter for Disease Dynamics is initiating a new research center, the EpiCenter for Emerging Infectious Disease Intelligence (EEIDI), as part of the Centers for Research in Emerging Infectious Diseases (CREID) Network funded by the National Institute of Allergy and Infectious Diseases (NIAID) at the National Institutes of Health (NIH). 
About
The EpiCenter for Emerging Infectious Disease Intelligence (EEIDI) brings together a consortium of leading research partners to advance an understanding of viral emergence from wildlife in forests and rapidly urbanizing environments. The work will enhance preparedness for disease emergence events in the Congo and Amazon Basin forest regions and support response efforts at the source of emergence. Our multidisciplinary team has expertise in infectious disease epidemiology, virology, human and animal health, medical entomology, disease modeling, and capacity strengthening. Activities will include integrating human, animal, and vector surveillance to enable insights into cross-species disease transmission and research into the ecology and evolution of emerging infectious disease. Our team will facilitate collaborative responsiveness to emerging infectious disease risk at the local, regional, and international levels. Our work will focus on arboviruses, filoviruses, and coronaviruses, as well as newly emerging threats that pose epidemic and pandemic risk. 
To evaluate disease transmission dynamics at the initial point of emergence in humans, surveillance will be conducted in forest and rural communities where virus spillover initially occurs from contact with wildlife. We will also investigate these viruses in the secondary stages of emergence, in urbanizing areas peripherally connected to forests, where viruses adapt to human-to-human transmission (by direct or vector-borne transmission). As part of the CREID Network, this Center will advance an understanding of ecological, immunological, and evolutionary mechanisms driving cross-species transmission dynamics of emerging viral threats. We will optimize innovative strategies to strengthen infectious disease research and improve preparedness to combat emerging diseases.
Where We're Working
Our research sites span two distinct, but strategically-chosen ecosystems in which to investigate zoonotic disease emergence and transmission dynamics. The Congo Basin forest perimeter in Uganda and the Amazon Basin forest perimeter of Peru have a history of emerging and re-emerging infectious diseases, and are hotspots of biodiversity where zoonotic spillover can first emerge. Environmental change in these biodiverse regions facilitates animal-human contact and adaptation of pathogens into new hosts, in our globally connected society. Research on evolution and adaptation of viral threats in these regions will shed new light on infectious disease dynamics along the spectrum of spillover and spread.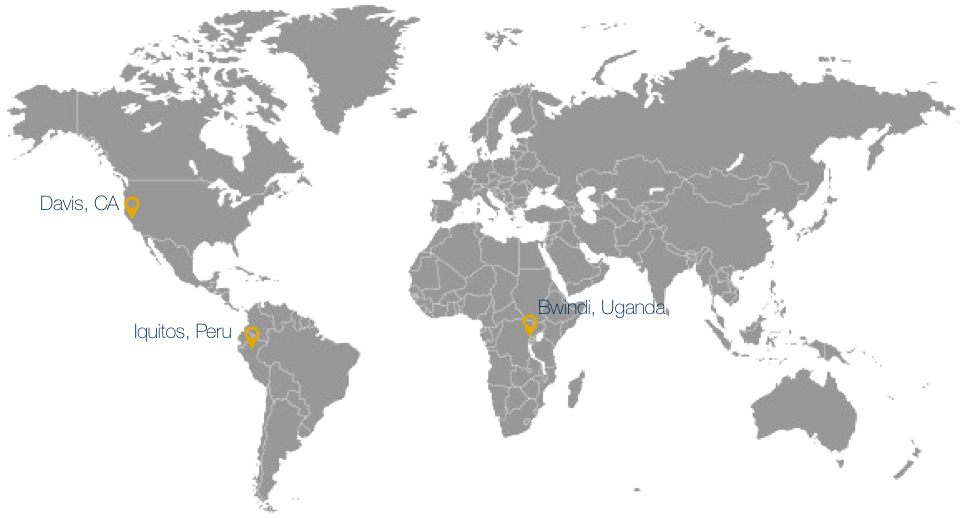 Key Partners
The EpiCenter for Emerging Disease Intelligence represents a consortium of investigators in the US, Uganda, and Peru, with collaborative reach within these regions. We work closely with ministries, government partners, stakeholders, and local communities to strengthen emerging infectious disease surveillance, research, and outbreak response. 
Partners include:
Contact Us
Email EEIDI@ucdavis.edu if you want to get in touch.
NIAID launched the CREID Network in 2020. This page was created by CREID Network members independent of NIH/NIAID. EEIDI is funded under NIAID award 1U01AI151814.