Featured Publications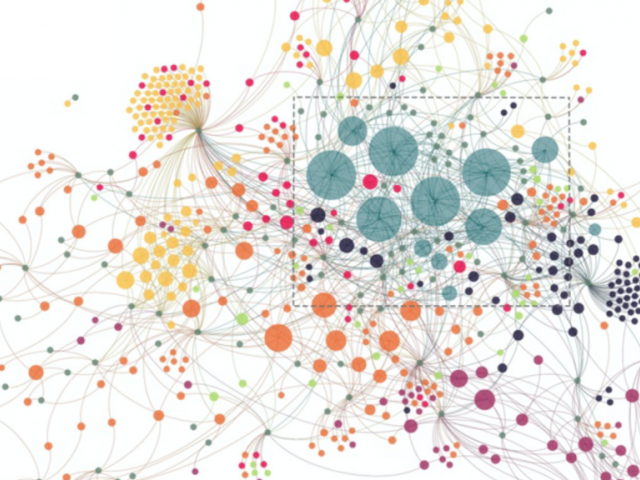 Global shifts in mammalian population trends reveal key predictors of virus spillover risk
Johnson CK, Hitchens PL, Pandit PS, Rushmore J, Evans TS, Young CC, Doyle MM. Proceedings of the Royal Society B: Biological Sciences. 2020 Apr 8; 287(1924): 20192736. https://doi.org/10.1098/rspb.2019.2736
The same processes that threaten wildlife populations increase virus spillover risk.
This research identified a higher incidence of zoonotic viruses in mammalian species that have declined in abundance due to habitat loss, fragmentation, and exploitation, providing direct evidence for the impact of environmental change on emerging infectious disease.
---
Jump to:   Recent Publications   |   More Publications   |   Press and Media   |   Videos and Podcasts
---
Rapid genomic surveillance of SARS-CoV-2 in a dense urban community using environmental (sewage) samples. Napit R, Manandhar P, Chaudhary A, Shrestha B, Poudel A, Raut R, Pradhan S, Raut S, Mathema S, Rajbhandari R, Dixit S, Schwind JS, Johnson CK, Mazet JK, Karmacharya D. medRxiv Preprint. 2022

Novel strains of Campylobacter cause diarrheal outbreak in Rhesus macaques ( Macaca mulatta ) of Kathmandu Valley. Napit R, Manandhar P, Poudel A, Rajbhandari PG, Watson S, Shakya S, Pradhan SM, Sharma AN, Chaudhary A, Johnson CK, Mazet JK, Karmacharya D. bioRxiv Preprint. 2022 

Characterization of low pathogenicity avian influenza viruses isolated from wild birds in Mongolia from 2009 to 2018. Barkhasbaatar A, Gilbert M, Fine AE, Shiilegdamba E, Damdinjav B, Buuveibaatar B, Khishgee B, Johnson CK, Leung CYH, Ankhanbaatar U, Purevtseren D, Tuttle JM, Mazet JAK, Peiris JSM, Jambal L, Shatar M, Sukhbaatar T, Olson SH. Research Square Preprint. 2022

Novel Diagnostic And Therapeutic Approaches To Elephant Endotheliotropic Herpesvirus 1a Hemorrhagic Disease In A Captive Juvenile Asian Elephant (Elephas maximus). Iyer ML, Molter CM, Flanagan JP, Bauer KL, Bernardy R, Hoffman D, Parkinson L, Brainard BM, Evans TS, Pursell T, Ling PD. Journal of Zoo and Wildlife Medicine. 2022 Mar 11; 53(1).

Evidence of SARS-CoV-2 Related Coronaviruses Circulating in Sunda pangolins (Manis javanica) Confiscated From the Illegal Wildlife Trade in Viet Nam. Nga NTT, Latinne A, Thuy HB, Long NV, Ngoc PTB, Anh NTL, Thai NV, Phuong TQ, Thai HV, Hai LK, Long PT, Phuong NT, Hung VV, Quang LTV, Lan NT, Hoa NT, Johnson CK, Mazet JAK, Roberton SI, Walzer C, Olson SH, Fine AE. Frontiers in Public Health. 2022 Mar 9; 10(826116).

Surveillance for potentially zoonotic viruses in rodent and bat populations and behavioral risk in an agricultural settlement in Ghana. Suu-Ire R, Obodai E, Bel-Nono SO, Ampofo WK, Mazet JAK, Goldstein T, Johnson CK, Smith B, Boaatema L, Asigbee TW, Awuni J, Opoku E, PREDICT Consortium, Kelly TR. One Health Outlook. 2022 Mar 8; 4(1):6.

Predicting the potential for zoonotic transmission and host associations for novel viruses. Pandit PS, Anthony S, Goldstein T, Olival K, Doyle MM, Gardner NR, Bird B, Smith W, Wolking D, Gilardi K, Monagin C, Kelly T, Uhart M, Epstein J, Machalaba C, Rostal M, Dawson P, Hagan E, Sullivan A, Li H, Chmura A, Latinne A, Lange C, O'Rourke T, Olson S, Keatts L, Mendoza AP, Perez A, Paula CD de, Zimmerman D, Valitutto M, LeBreton M, McIver D, Islam A, Duong V, Mouiche M, Shi Z-L, Mulembakani P, Kumakamba C, Ali M, Kebede N, Tamoufe U, Bel-Nono S, Camara A, Pamungkas J, Coulibaly JK, Abu-Basha E, Kamau J, Silithammavong S, Desmond J, Hughes T, Shiilegdamba E, Aung O, Karmacharya D, Nziza J, Ndiaye D, Gbakima A, Sijali Z, Wacharapluesadee S, Robles EA, Ssebide B, Suzán G, Aguirre L, Solorio M, Dhole T, Hitchens P, Joly D, Saylors K, Fine A, Murray S, Karesh W, Daszak P, Mazet J, PREDICT Consortium, Johnson CK. Research Square Preprint. 2022.

Impact of social distancing on early SARS‐CoV‐2 transmission in the United States. Sanchez JN, Reyes GA, Martínez‐López B, Johnson CK. Zoonoses and Public Health. 2022 Jan 19; 69(1):zph.12909. 

Investigating Associations Among Relatedness, Genetic Diversity, and Causes of Mortality in Southern Sea Otters (Enhydra lutris nereis). Carter NH, Miller MA, Moriarty ME, Tinker MT, Gagne RB, Johnson CK, Murray MJ, Staedler MM, Bangoura B, Larson S, Ernest HB. Journal of Wildlife Diseases. 2022 Jan 4; 58(1):63–75.
A novel SARS-CoV-2 related coronavirus in bats from Cambodia. Delaune D, Hul V, Karlsson EA, Hassanin A, Ou TP, Baidaliuk A, Gámbaro F, Prot M, Tu VT, Chea S, Keatts L, Mazet J, Johnson CK, Buchy P, Dussart P, Goldstein T, Simon-Lorière E, Duong V. Nature Communications. 2021 Nov 9; 12(1):6563.
Improving the probability that small-scale science will benefit conservation. LeFlore M, Bunn D, Sebastian P, Gaydos JK. Conservation Science and Practice. 2021 Oct 26; 4(1):e571.
Evolutionary trajectory of SARS-CoV-2 and emerging variants. Singh J, Pandit P, McArthur AG, Banerjee A, Mossman K. Virology Journal. 2021 Aug 13; 18:166.
Dairy management practices associated with multi-drug resistant fecal commensals and Salmonella in cull cows: a machine learning approach. Pandit PS, Williams DR, Rossitto P, Adaska JM, Pereira R, Lehenbauer TW, Byrne BA, Li X, Atwill ER, Aly SS. PeerJ. 2021 Jul 16; 9:e11732.
Early detection of wildlife morbidity and mortality through an event-based surveillance system. Kelly TR, Pandit PS, Carion N, Dombrowski DF, Rogers KH, McMillin SC, Clifford DL, Riberi A, Ziccardi MH, Donnelly-Greenan EL, Johnson CK. Proceedings of the Royal Society B: Biological Sciences. 2021 Jul 14; 288(1954):20210974. 
Seroepidemiologic Survey of Crimean-Congo Hemorrhagic Fever Virus in Logging Communities, Myanmar. Evans TS, Myat TW, Hom NS, Ricks KM, Maw MT, Oo ZM, Toe AT, Aung NT, Aung P, Aung TH, Kuehnert P, Thant KZ, Win YT, Thein WZ, Gardner NR, Schoepp RJ, Johnson CK, Thu HM. Emerging Infectious Diseases. 2021 Jun 1; 27(6):1709–13.